Part 6. Campaigns
In this part you will get to know how our campaigns in the Thulium system work.
Campaigns allow you to organize outgoing calls, for example for sales and customer feedback surveys. The purpose of Campaigns is to automate the common activities of consultant to make more effective use of consultant's time (for real conversations with customers than per-sale activities).
Did you know...
The efficiency of the campaign depends to a large extent on the correct choice of a dialer, which establishes connections for consultants. We have three types of dialers: Preview, Progressive and Predictive.
In our campaigns that were set up for you we use the Preview dialer, which is the easiest to start work with Thulium.
Step 1: Add agents to the campaigns
Information about campaigns can be found in the Campaign tab in the Management → Campaign.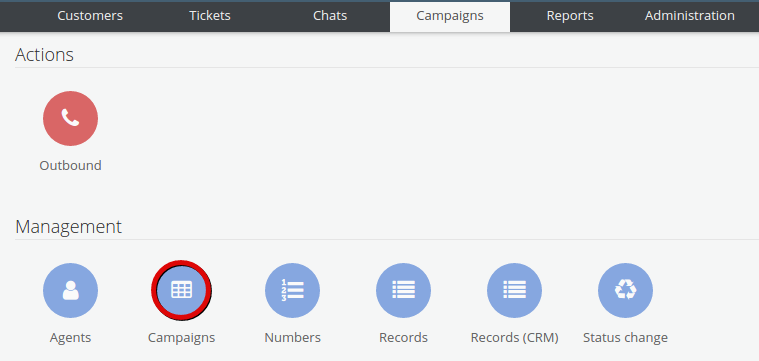 We created two campaigns for you which allow you to check the most important functionalities.

Your first step will be to add agents who will make calls as part of your campaign. Enter in Campaign 00001, click the button

and next click

.


You will open the card where you have to select:
campaign
agents who will support it - you can choose them based on activity and on whether they are being assigned to other campaigns
After choosing click

.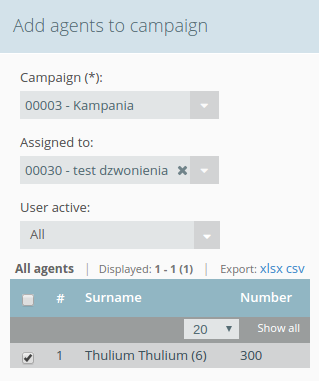 Step 2: Add customers to the campaign
Now add customers to whom the consultants will call. You can import them from CRM database to which you previously added several records.
Enter the selected campaign, expand

and select CRM.

Using filters find people who you want to add and click

and then

.

Step 3: Run a campaign
After creating the account you are assigned to the campaign by default. You can check how it works. Sign it to the Thulium Agent application and set status to "Free". By default, the manual operating mode was set for you. Go to the Campaigns tab and select Management → Outbound.
Choose the campaign and click

.

Here is an example of a record card in a campaign.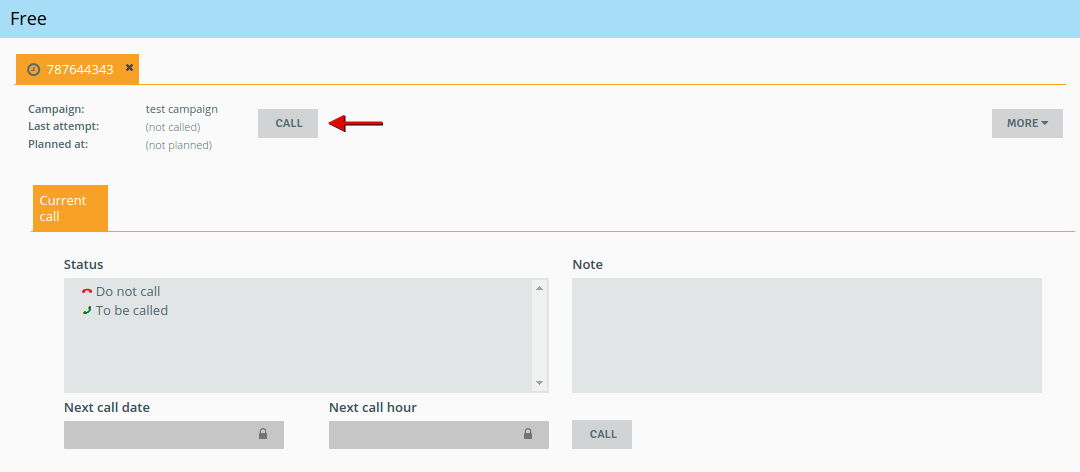 In manual operating mode the agent decides when to make a call, when to save the outbound call status and establish next connection.
The mode of outgoing calls can be defined during creating or editing a user by expanding advanced settings (Administration → Users → Users).

Important
When adding agents it's a good idea to set them up in manual mode - this will allow to test your campaign and acquaint yourself with a record's card.
During the conversation the agent assigns status - by default "to be called" and "do not call" and sets the date for the next conversation.
In addition, an agent can:
see a contact history of this campaign or the previous one, which allows them to see the context of previous conversations and see what the customer was interested in
send e-mail/SMS templates, so while we are in the process of talking to the customer or directly after, we can send him a message quickly and simply
put the customer on a blacklist
---
Part 6. Campaigns
Related articles