Part 4. E-mails
In this part you will get to know what is the Tickets functionality. We will show you how to correctly configure mailbox and assign agents to the ticket queue. At the end we'll check whether everything is OK ;-).
Tickets are an advanced tool for e-mail customer support. Owing to this functionality you always know who handles the ticket and what is the completion stage. All messages are in one place with entire history of contact - that will sort out the work of the consultants and you will be sure that no e-mail will remain unanswered.
Did you know...
Our Ticket are not a usual mailbox. It's a complex tool which contains lots of advanced functionalities.
Step 1: Mailbox configuration
By default, you have already a mailbox configured (name of instance@demo.callcenter.pl) and now you can send test e-mails to check your system's response. You can also add your own mailbox. We will show you how to do this.
In the Administration tab select Administration → E-mail and SMS configuration.

Expand the menu

and select E-mail.

A screen will appear where you need to enter the parameters of the mailbox.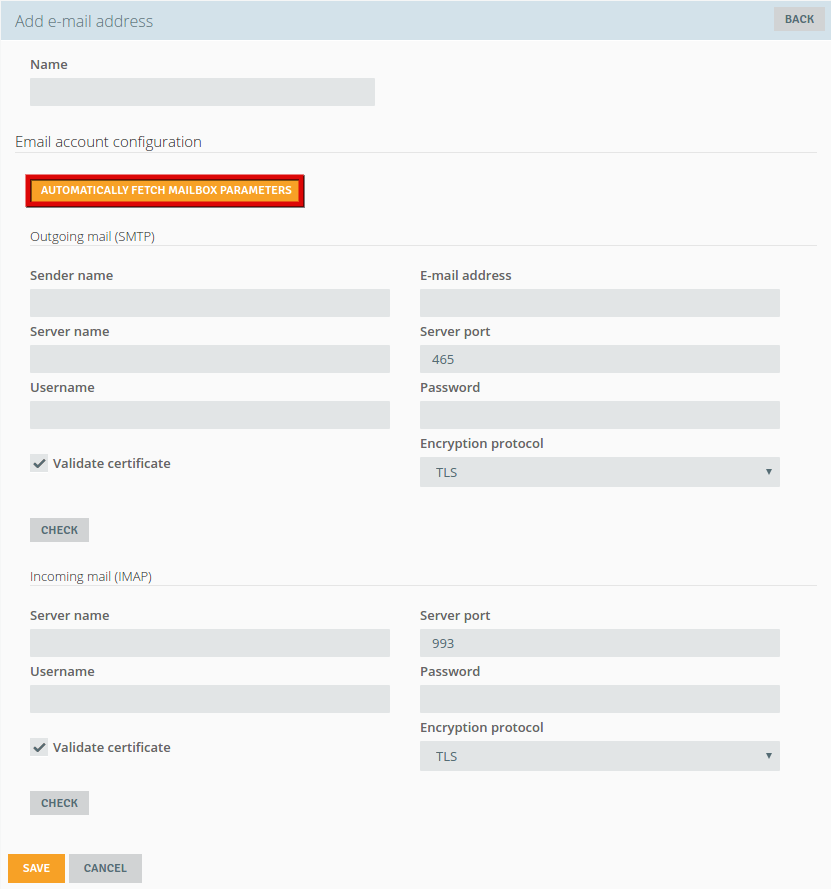 Enter the name of the mailbox.
Complete outgoing (SMTP) and incoming (IMAP) e-mail parameters. If you have a problem with that you can click

. Button sets off automatic mailbox configuration: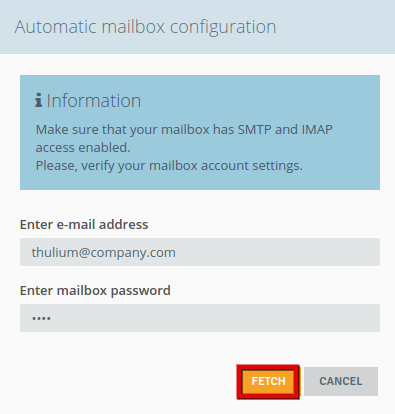 Enter e-mail address and password to your mailbox and click

. The system will start downloading the parameters.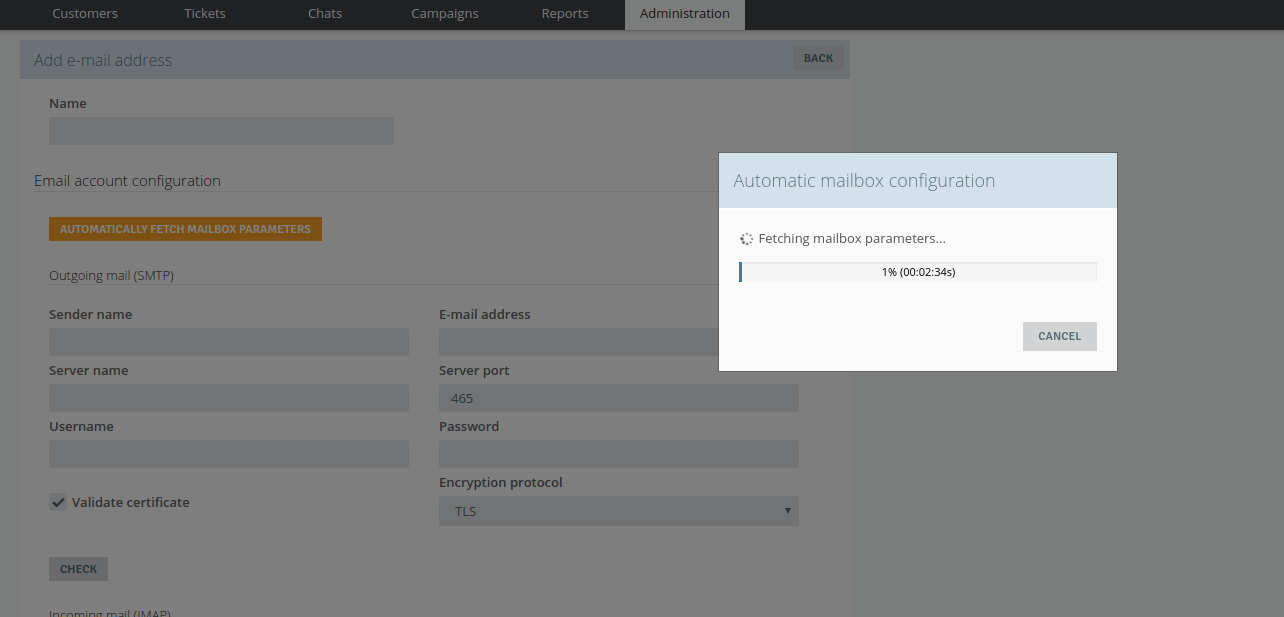 When the download is complete click

.
Hint
The option of automatic download of mailbox parameters is applicable to standard mailboxes. If you have a problem with configuration contact our support team.
Step 2: Assign mailbox to the queue
Time to assign mailboxes to specific queues. Remember that you have different queues in the tickets than in the infoline.
In the Administration tab select Tickets → Queues and rules.

In the system there is a pre-configured queue named "Inbox" with the assigned mailbox.

If you configured your own mailbox assign it to the "Inbox" queue. How do to this? Click Inbox queue and select

.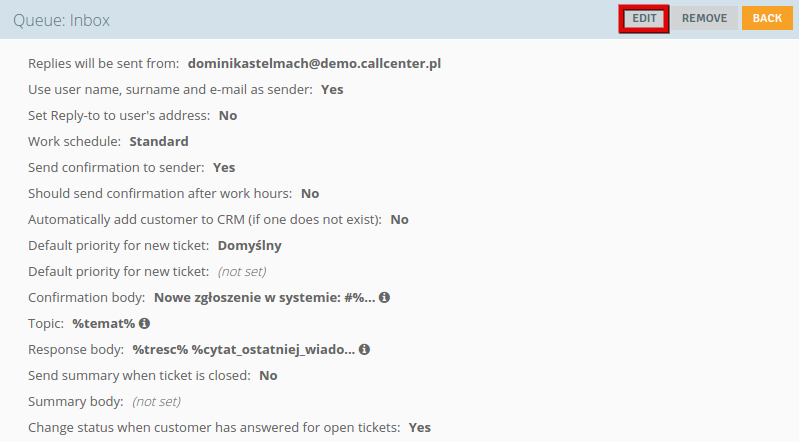 In the menu Replies will be sent from choose the maibox, which you already configured and click

and then

. At this moment you don't have to change other queue settings.

In the E-mail accounts in use part choose configured mailbox. This allows to retrieve tickets from e-mail accounts. Remember to save changes by clicking

.

In the Rules for incoming messages part we create rules that manage the e-mail distribution. You specify which queues to target messages for.
In the system there is already an exemplary rule created which assumes that when the receiver address is a specified mailbox, the messages will be directed to "Inbox" queue.

Step 3: Assign agents to the queues
If you created a few agents and want to assign them to the queues, click "Inbox" queue and in the part Assigned agents select

.

Checkbox selected agents and click

.
Now, test the mailbox - from any e-mail address send a message to the one you just configured. The message should appear on the Tickets list.
See how our Tickets tab looks like.

Did you know...
Every ticket has got a unique number (ID number). If you type the number in filters you will find the message in a few seconds.
Now that on the left side, next to the subject, there are colored dots which show if the tickets are solved within our time standards.
Blue dot means new message with no action taken (no interaction from company and customer)
Green dot means that the response to the message was too late, after defined response time.
Orange (or yellow depending on screen settings) alarms due time of this ticket is coming (this is automatically assigned).
Red dots we don't want to see in our Tickets list. They mean that the response to the ticket came after due time.

The above times you can set according to your needs in the Administration → Tickets → Priorities
Now, choose any ticket and click on it.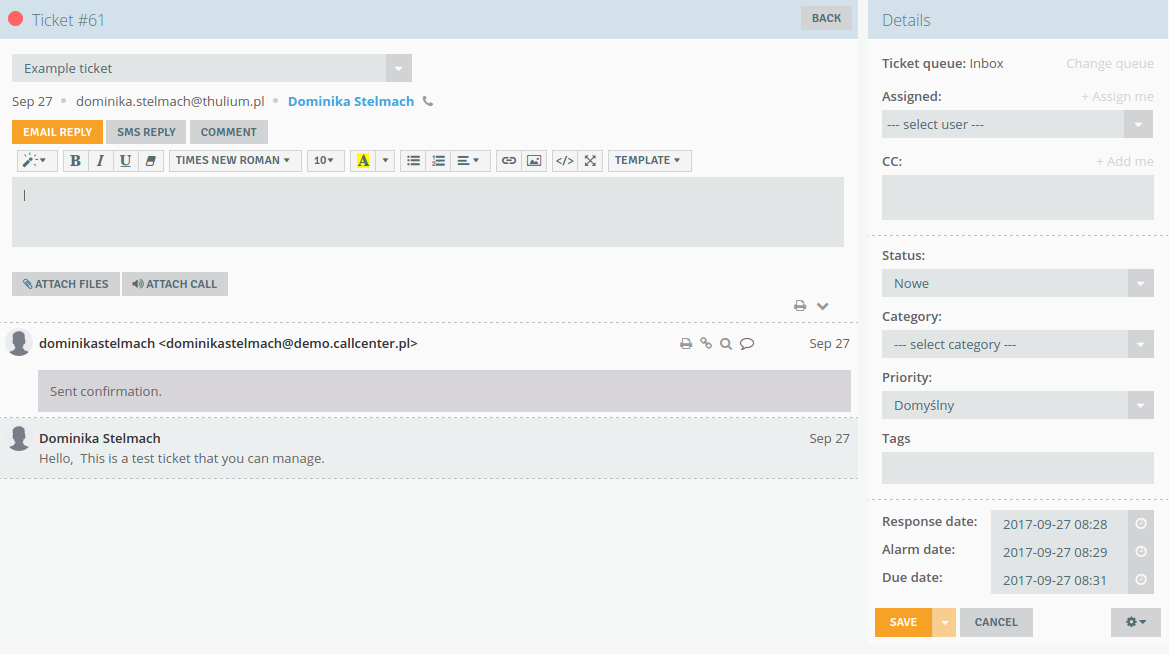 This is the ticket window in Thulium. As you can see - this is not a regular mailbox.
In the left part of the window you will find all messages send and received within this ticket. You will be able to reply to the ticket or add comment (or both :-). The comment is only visible for the system users. On the right side, in the section Details you will find such information as:
in which queue the ticket is (you can assign message to another queue which supports other people). Many companies use this for realizing for example: process of accepting orders or complaints
for whom the ticket is assigned
what is the status of the ticket (the status often reflects the completion stage)
to which category the tickets belongs
according to which priority the time of handling the ticket should be counted
---
Part 4. E-mails