Part 1. Users
Hello, we're happy that you're with us.
In this guide we will show you how to use our system step by step. In this part you will get to know how to add users and assign them to queues.
Are you ready? Let's go!
Let's start with the introduction of two concepts: user and agent. User is anyone who has access to the system, for example administrator, consultant. An agent is a person who is receiving and making calls, chatting and receiving and sending e-mails (in a nutshell - supporting customers) - the scope of agent's work is defined by assignments to individual queues and permissions.
Agents' basic tool is Thulium Agent application which helps receive and make calls and handle chats. The agents' work in Thulium is always monitored so that the system knows about their availability and completed activities. This lets us give information to customers who call the infoline about their position in a queue or expected waiting time.
Did you know...
You have one default user created for you who can utilize various functionalities of the system - he's an Admin after all. By using his account you can do a lot of things.
Step 1: Add users
Your first step will be to add users who will use the system. Of course to start, you have to be logged in :-)
Select Administration → Users → Users.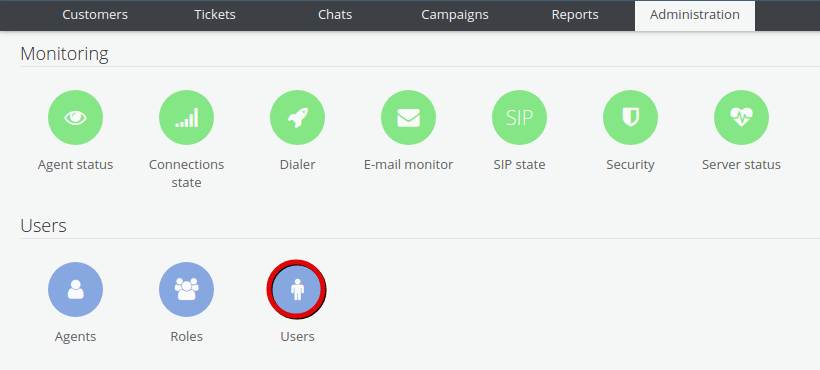 Click the button

.

You will open the card to enter:
first name and last name
password and password (for the second time to be absolutely sure :-))
In the Login field the value is automatically set: first name.last name, but you can change this to your own preferences.
Important
The password shouldn't contain language-specific characters.
By using login and password you can log in to the system.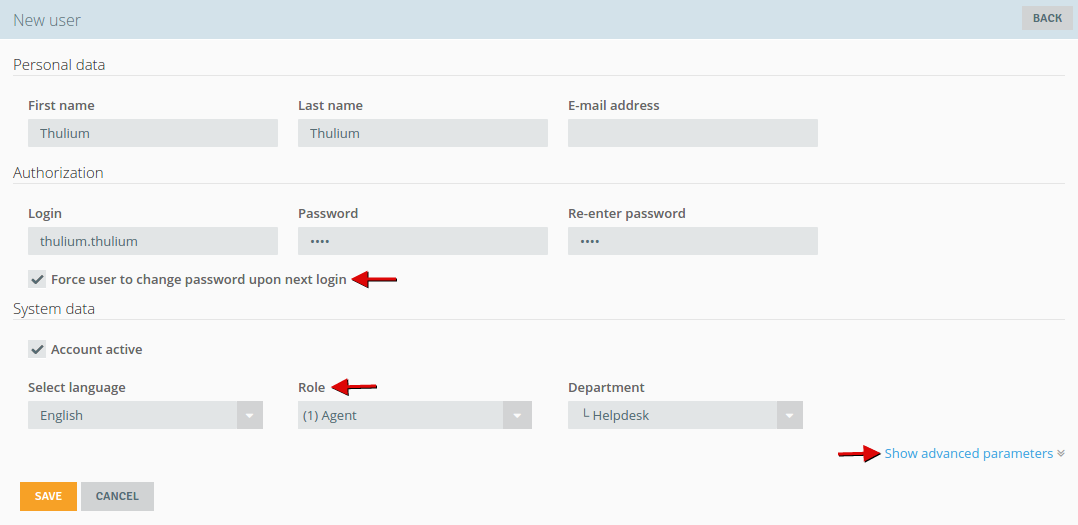 The option Force user to change password upon next login allows the agent to change the password on their own for the one which is easier to remember.
Now it's time for assigning appropriate roles. What are roles? Roles are a parameter which allows to set permissions for access to specific system functionalities. Using roles is much faster than specifying permissions for all system functionalities separately for each agent.
In the system we have two default roles - Agent (permissions for access to all tabs connected with handling calls, emails and chats) and Admin (permissions for all tabs in the system). You can add own roles to fit your business needs.
Expand "Show advanced parameters" and check the option User is agent.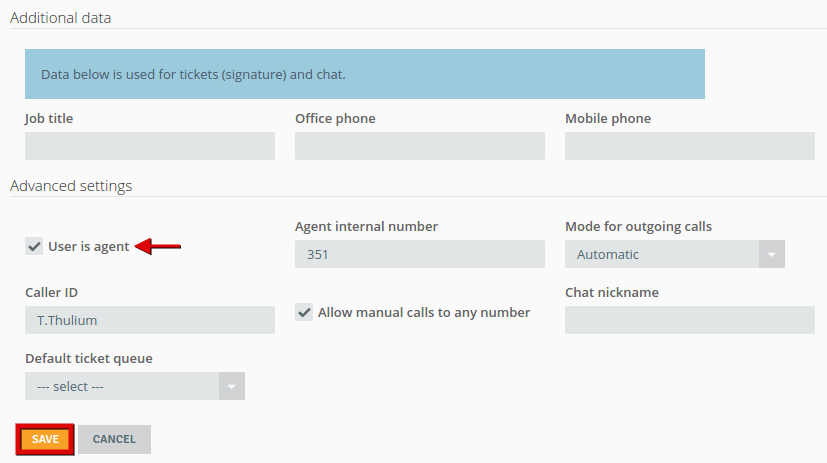 The system also sets other parameters: agent's internal number, mode of outgoing calls (automatic) and caller's ID. Do not change them for now.
Save changes by clicking

.
Your agents need Thulium Agent application for receiving and making calls and for chatting. Where to get it? In the upper right corner of the screen there is a drop-down menu - select Account settings. The application download link is located in the lower right corner under footer settings.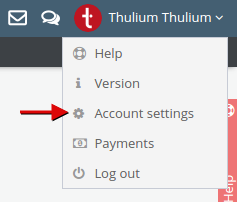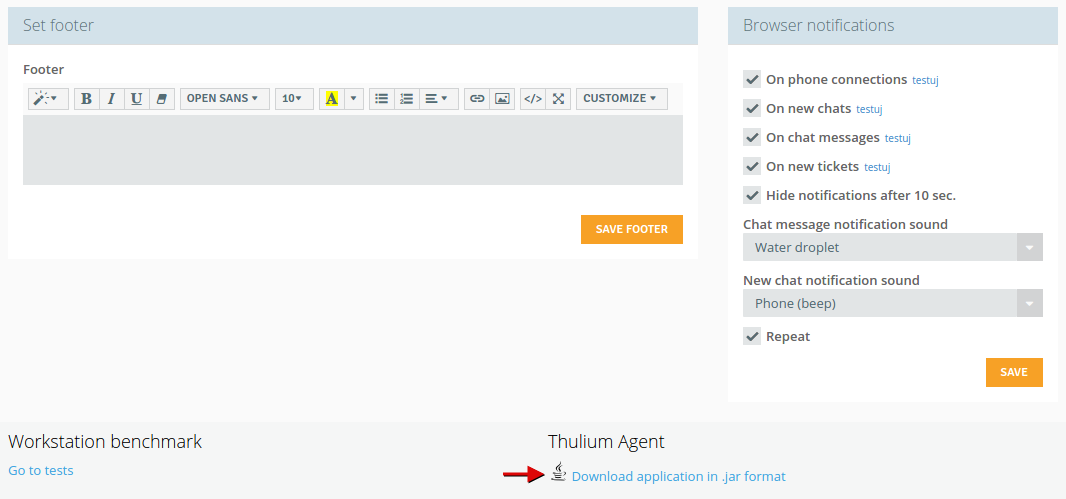 Important
Thulium Agent doesn't require installation and unpacking. You need the latest version of Java for running it. The app starts when you click on it.
Step 2: Assign users to the queue
To allow an agent to perform a certain function (make and receive calls, send emails, chat) you have to assign them to the appropriate queues.
Queue is a function which places people who contact with the company in the selected topic in some order (separately for phone calls, emails and chats). Thanks to a queue a certain hierarchy of service is created and customers are assured of getting support. Each channel has its own tools which help to keep customers' focus on a given interaction, especially when they have to wait.
Did you know...
After creating the account you are assigned to the phone and email queues by default.
You specify the assignments after entering the user account - in the section Assignments select

.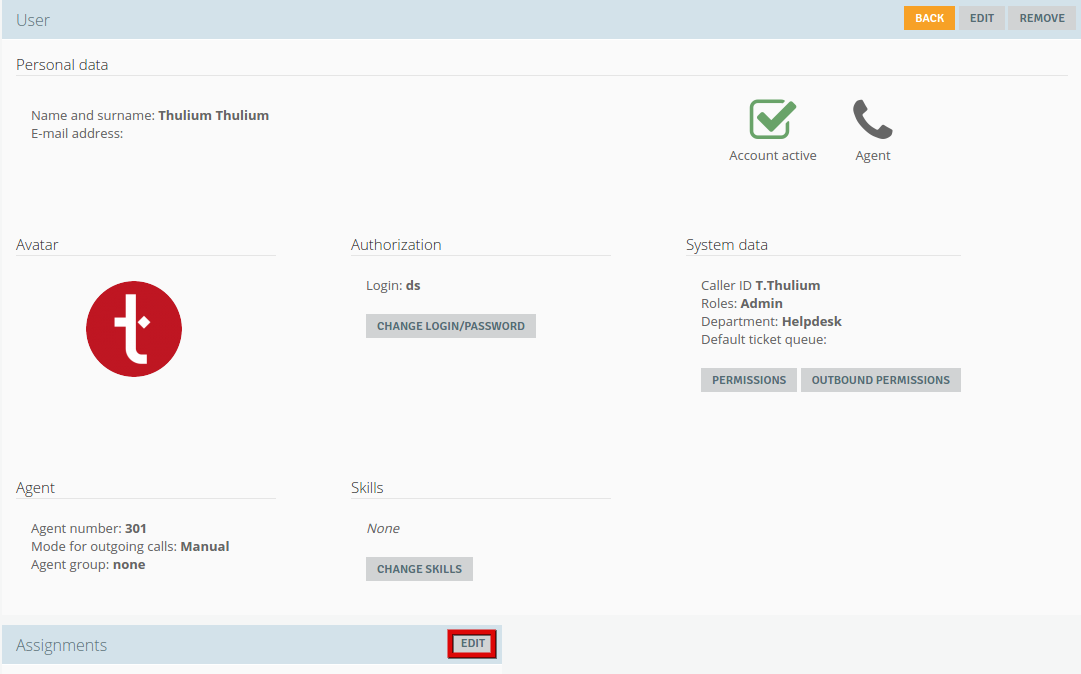 To allow an agent to receive calls you have to assign him to the appropriate phone queues (the agent may be assigned to multiple queues). Similarly, in order to handle emails they have to be assigned to the ticket queues. Chatting is possible when assigned to chat queues.

In the system two ticket queues and one helpline queue are configured by default. To assign an agent to one of them check the appropriate box and click

.
In each queue you can also set the priority value which defines the order of handling. The lower the priority, the faster the calls within the queue will be handled. For example, we have two different queues "orders" and "cooperation". From business point of view these queues may vary in importance. We may want the queue "orders" to be handled faster. In this case the queue "cooperation" should have a higher value of this parameter.
---
Part 1. Users