Magento 2
Thulium allows you to integrate with an online store on the Magento 2 platform and download customers and their transactions to the Customer card.
---
Scope of integration
Automatic addition of Magento 2 customer to Thulium,
Additional Magento tab on the customer's tab in Thulium to display customer orders from Magento 2.
Step by step
In order to integrate Thulium with Magento 2 platform, within the former, go to Administration → Advanced → Integrations and run the integration configuration from the E-commerce section: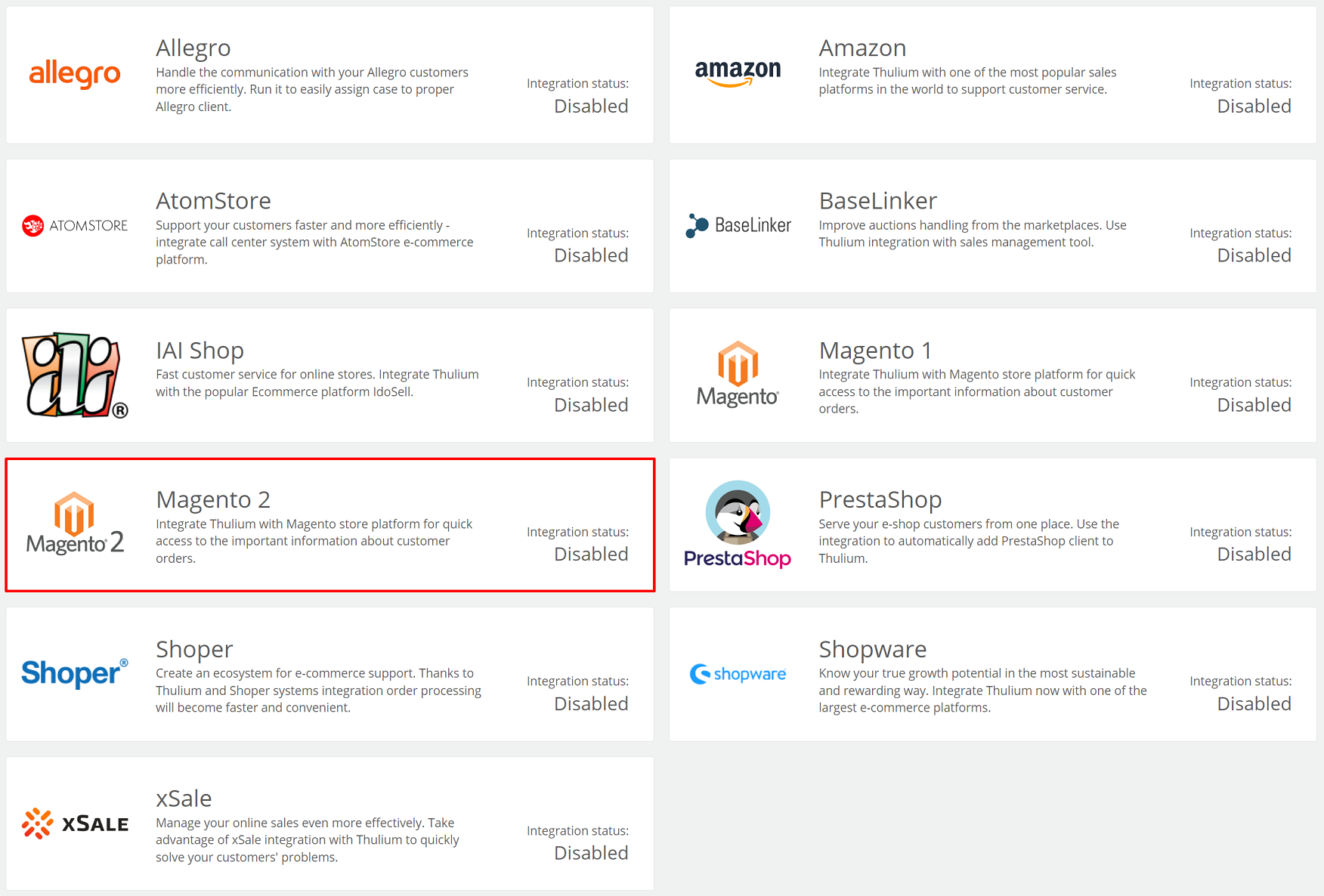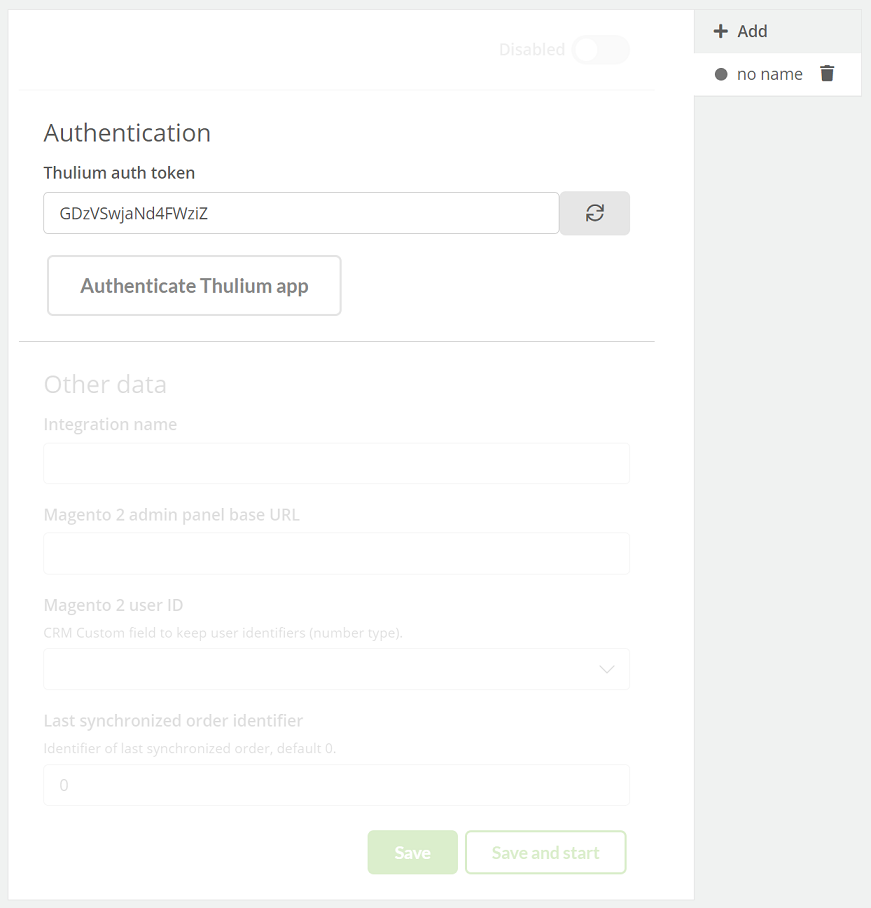 Important...⚠️
You need to create a corresponding custom field type number for Magento 2 ID beforehand:

Click

to authenticate the integration. If the authentication is successful, an appropriate message will appear on the screen:

By clicking on the

button, we can start re-authentication.
Once the application has been authenticated, complete Other data.
For proper authentication, the further part of the configuration process should be completed in Magento 2.
On Magento 2 platform, select SYSTEM → Integration section and click :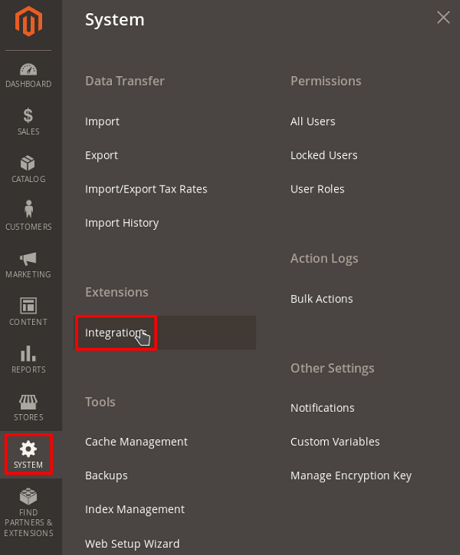 Name the integration in the Name field and paste the data from Thulium into the Callback URL and Identity link URL fields, validate with the Administrator password and confirm :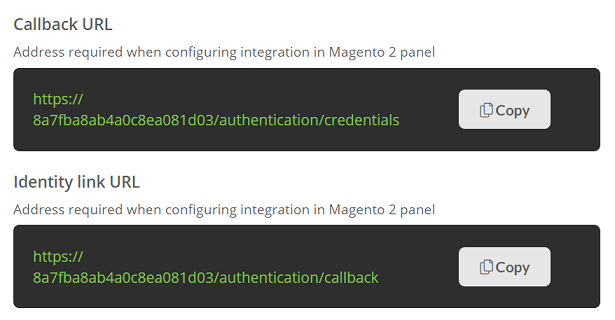 Additionally, set Resource Access in the API section to Sales → Operations → Orders → Actions → View: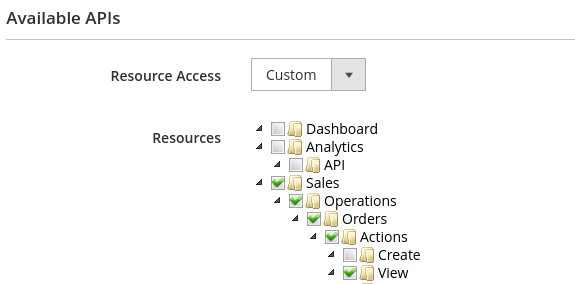 After saving the changes, activate the integration by clicking Activate an then :


Complete the process by launching the integration and selecting within the Customers tab in Thulium the functionality :

Important...⚠️
Since the integration, synchronization with Magento 2 takes place automatically every 30 minutes.
After the process is completed, a new Magento tab will be visible within the respective customer (Customer card) with a list of orders and a completed special field with Magento ID:


In addition, orders will be visible within the Contact History in the ORDERS section:

Did you know...💡
As part of the ongoing chat conversation for a customer with Magento 2 integration, information about the last order is visible:

To launch another integration with the same E-commerce platform, click and re-enter the relevant authorization and configuration data: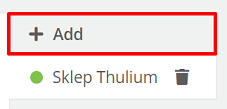 After launching such integrations, this information will be visible in the list of integrations under Administration → Integrations.
---