SIP accounts
SIP account allows you to view, edit and add SIP accounts. It is intended for system administrators who will be responsilble for managing user SIP accounts.
From the Administration tab select Telecommunication → SIP account.

Did you know...
In the Thulium you get 20 configured SIP accounts which numbers you can change as you like.
A list with SIP account will appear on the screen. Account with the user "Automat Automat" is assigned to the agent when the user logging into the Thulium Agent application doesn't provide a SIP number and is not assigned to any account. If you want your agents to have fixed numbers, assign them to individual SIP accounts.
If you want to add a new account click the button

.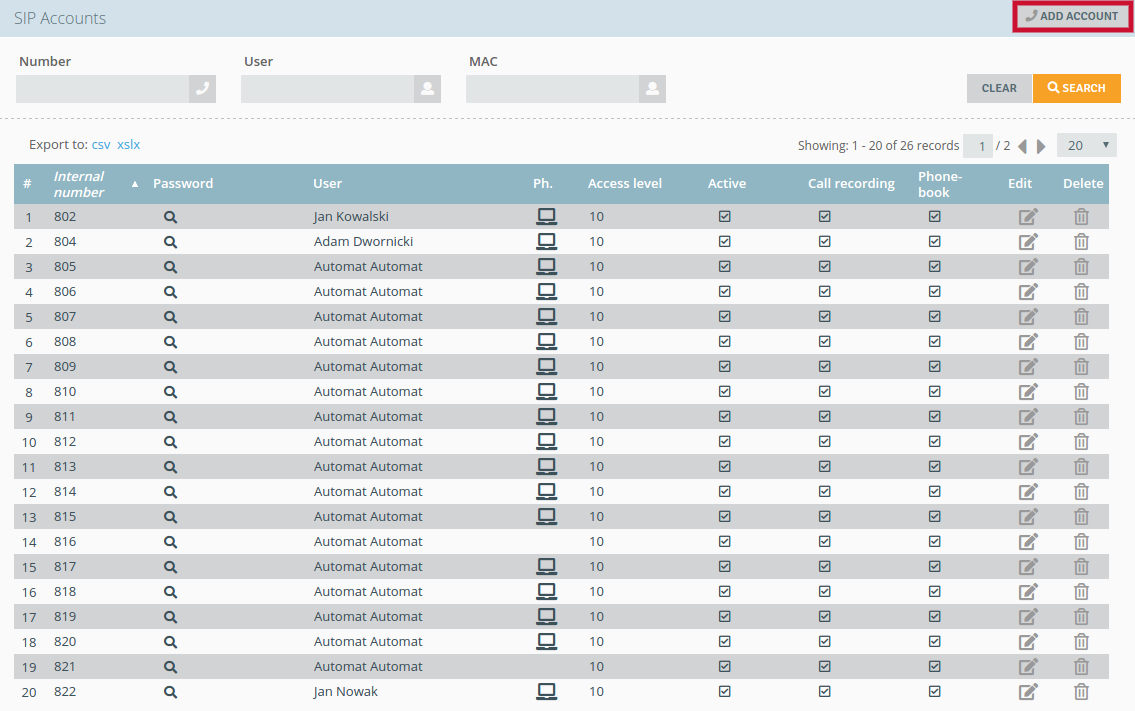 Available parameters:
Internal number - 3-digit internal number (by default as the next number from the list). While creating SIP account you can enter any internal number from the range 000-999 (the best is 100-999)
Password - account password (in the case of using an external softphone)
User - select the user who will be assigned to SIP account
Hardphone - decide if the agent will be using in-built Thulium softphone or external softphone. If you choose the second option, you will need to configure your phone's settings.
Access level (0-100) - set the access level (by default - 10). The access level is connected with call routing and allows to set if the user (internal number) can use defined call routing rules. By default we recommend keeping this parameter unchanged.
Additionally you can: define account activity in the system (active account - visible in the system), decide if the number will be visible in the phone book and whether calls from this number will be recorded.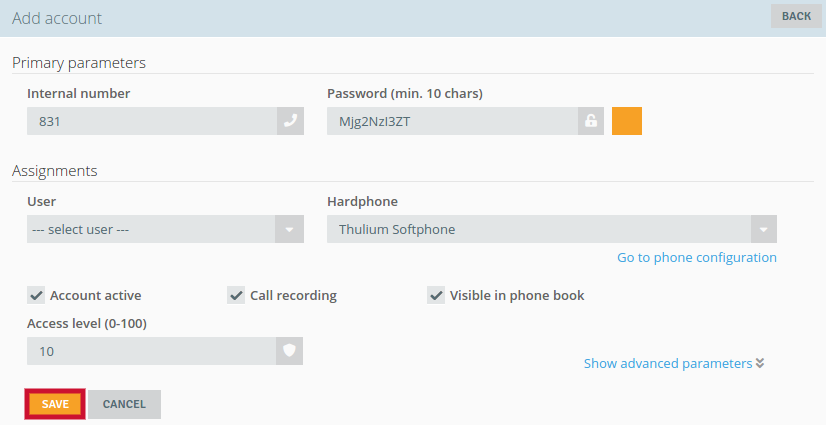 After completing the data click the button

.
Important
After adding or editing SIP account it is neccessary to re-generate the configuration of SIP account. You can do it in Administration → Generate configuration.