Work hours
Work hours schemes allow you to specify at what hours each communication channel (infoline, campaigns, tickets, chat) operates. Each of them can be active at different hours - you can create a separate scheme for each communication channel.
Work hours schemes
By default, the system creates one working hours scheme, which assumes work from 08:00-20:00. If you want, you can edit it and set your own working hours.
We will show you how to add your own scheme. From the Administration tab, select Telecommunication →Work hours.
You can add a new scheme by clicking the

button. By default, the created scheme assumes Monday to Friday 08:00-16:00 operation.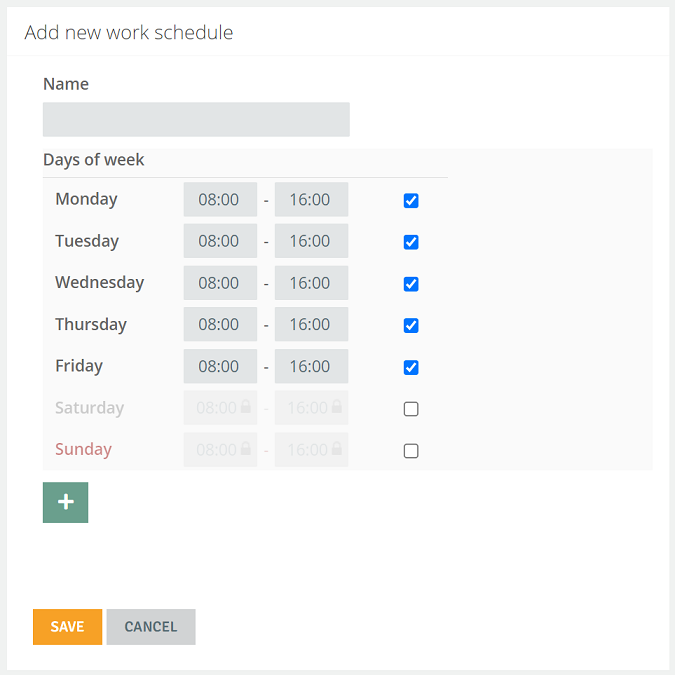 Enter the name of the scheme, e.g. Support, and define the working hours. For example, we want e.g. the infoline queue to be active from Monday to Friday from 07:00 - 20:00 and on Saturdays from 09:00-13:00. Sunday is a non-working day - the checkbox is unchecked.
Special days
In addition, you can include special days in the schedule of hours, which are intended, for example, for holidays or events related to the work of your company. You will add them by clicking the button

.
Consider two cases:
Your company does not work on May 1 due to the holiday. Check the option "Specified date" - select the date and the option "Day off", and then confirm by clicking .

On June 15, employees are holding an in-house training session, and on this day the customer service office works exceptionally from 07:00-12:00.Select the option "Specified date". - select the date and the "Working day" option, set the working hours, and then confirm by clicking .
Utworzone dni specjalne pojawią się na schemacie godzin.
Confirm the changes by clicking the button

.
Important...⚠️
We allocate a specific date in the schema of hours for so-called special days (such as holidays). If you want calls on such days to be routed to another queue or simply disconnected place this date in the schema. It will be taken into account when checking the hours of operation in call forwarding and on the IVR.
---