Work hours
The work hours scheme allows you to specify at what time the particular communication chanels work (infoline, campaign, tickets, chat). Each of them can be active at different hours - for every communication chanels you can create a separate scheme.
By default, in the system one work hours scheme has been created - "Standard" which assumes that work takes place from 8 Am to 8 PM. You can edit the scheme and set own work hours - if you want.
We will show you how to add your own scheme. In the Administration tab choose Telecommunication → Work hours.

New scheme can be added by clicking the button

. By default, the scheme assumes work Monday to Friday from 8 Am to 4 PM.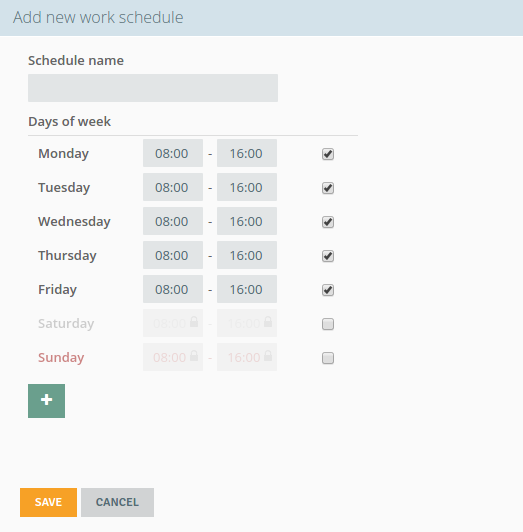 Enter the name of the scheme (for example Customer Support Department) and define work hours. For example we want the infoline queue to be active from Monday to Friday from 7 AM to 8 PM and Saturday from 9 AM to 1 PM. Sunday is a non-working day - the checkbox is not checked.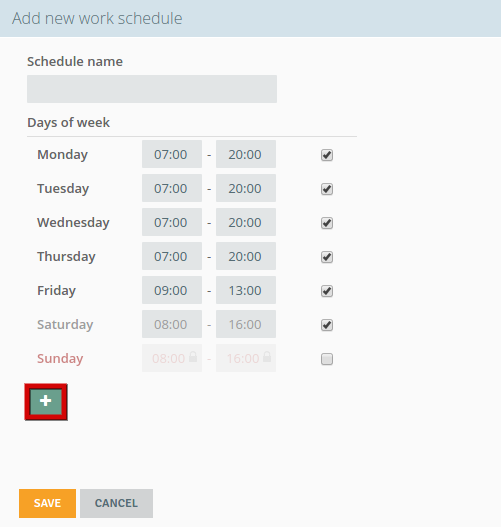 In addition, in the work hours scheme you can add special days which are designed for example for holidays or events related with your company. You can add them by clicking the button

.
Let's consider two cases:
On May 1 due to holidays your company is not working. Check the option "Specified date" - choose date and the option "Day off", and then click .

On June 15 the employees take part in internal training and on that day the customer support department is working as an exception from 7 AM to 12 PM. Check the option "Specified data" - choose date and the option "Working day", set work hours and then click the button .

The special days created will show up in the work hours scheme.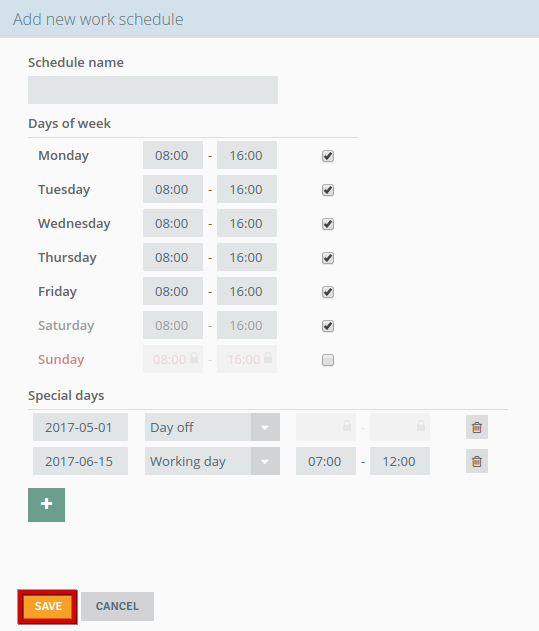 Save the changes by clicking

.
Important
The specyfic date in the work hours scheme is reserved for the so-called special days (for example holidays). If you want your calls to be routed to a different queue or just disconnected on such days, put this date in the scheme. It will be taken into account while checking work hours in forwardings and IVR tree.