Alerts
The Alerts module contains information about errors related to the use of system elements, e.g. e-mail box. Within this functionality, such events are aggregated (regardless of whether they are already resolved or not) in order to verify historically of such situations along with the number of their occurrences.
Z zakładki Administration wybierz Monitoring → Alerts.


Last occurrence - date when the event in question last occurred,
First occurrence - date when the event first occurred,
Occurrence - multiplicity of occurrence of a given error,
Resolved - information whether the problem has been solved,
Alert class - error class name,
Message - content of the error in question,
Settings - quick referral to the configuration of a particular system component,
Details - detailed content of the error notification.
We are referring to such events as:
IVR branch missing when called from another branch,
error sending Webhook notification to URL,
problem with sending ticket and wrong box parameters,
error of sending SMS message with call rating.
Depending on your authorizations, such notifications are provided through special notifications (which can be closed):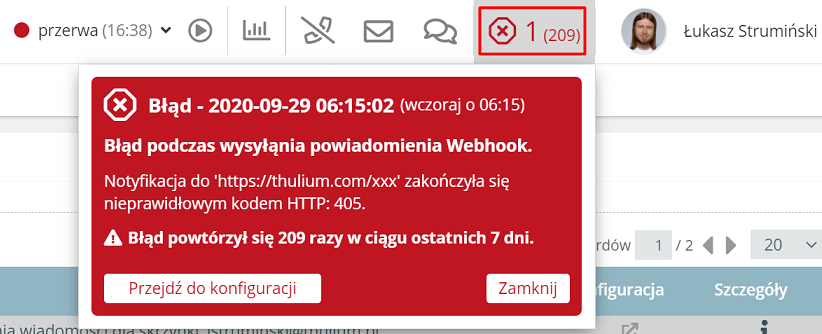 where:
the large digit is the number of errors currently occurring,
the value in parentheses is the number of occurrences of events.
If there are more errors/alerts then click the button

.
---