SIP state
The SIP state tab allows you to view the status of numbers (SIP account status) logged into the PBX.
Z zakładki Administration wybierz Monitoring → SIP state.

The screen will show a list with the current status of SIP accounts defined in the PBX. If the user is correctly logged into the application then his/her account will be highlighted in green and the status OK will appear under State.
In the first part, we can see all the accounts for which registrations are made to the headquarters. The second part shows the status of registrations performed by the PBX.
SIP accounts
SIP account - SIP account number,
IP address - IP address from which the agent registers,
Port - source port from which the agent registers,
State - registration status,
Useragent - softphone the customer is using (Thulium Softphone or an external softphone).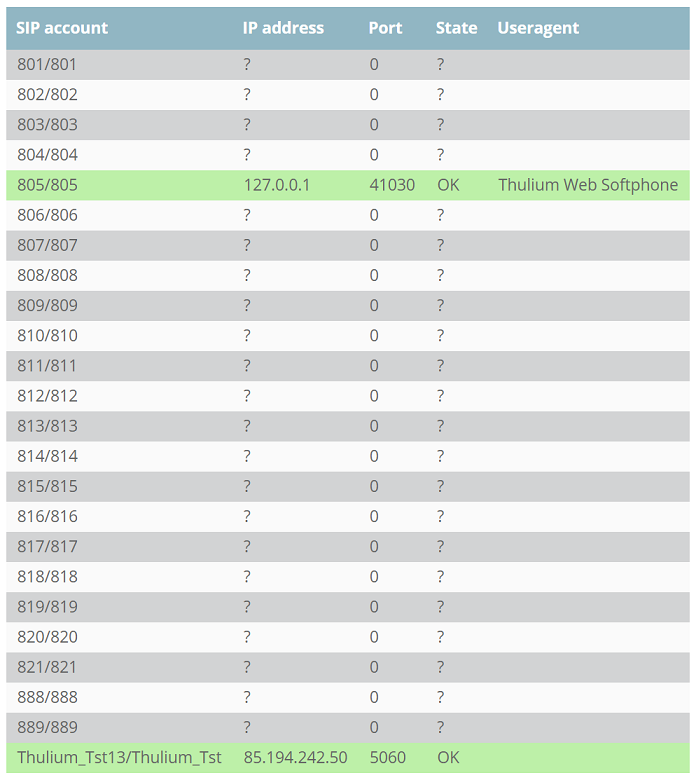 SIP registry
Host:Port - address/name of the server to which the PBX registers,
Login - login, for which registration is performed,
State - registration status,
Registration time - date and time of registration.

Did you know...💡
With Thulium, you get 20 pre-configured SIP accounts, whose numbers you can change at will. SIP accounts can have any 3-digit number from 100-999.
---