Pauses
In the system it is possible to define statuses - pauses, which will determine the activity of agents. It is worth if you create pauses for different activities - if your agent, in addition to executing campaigns, has other duties related to running the office, he can switch to a pause, for example. Work assignment, during which he/she will not get calls and chats.
From the Administration tab, select Advanced → Pauses.

We have created five pauses in the system:
Administrative - pause imposed by the system, e.g., when an agent has not marked the topic of conversation,
Break - the default status that an agent who is on a break can set,
Wrap-up - pause occurring at the time of customer service after a completed call,
Work assignment - default break intended, for example, for tasks assigned by a supervisor.
Pauses Wrap-up, Administrative are system pauses (they are set by the system) and hidden to the agent. The Break pause is a system pause that is visible to the agent. On the other hand, the Work assignment pause is the default pause, which you can configure according to your needs.

Add a new pause, click the

button located in the upper right corner.
Name - type the name of the pause,
Active - determine the availability of a pause,
Unavailable for users - decide whether pause will be visible to agents; checking this option will make pause hidden to agents and administrators.
In the Available channels section, specify which channels will be active during the pause. For example, if you configure a pause such as. Chat and you select "Chat" as an available channel, then after setting this pause, the agent will not get phone calls from queues and campaigns, but will add chats.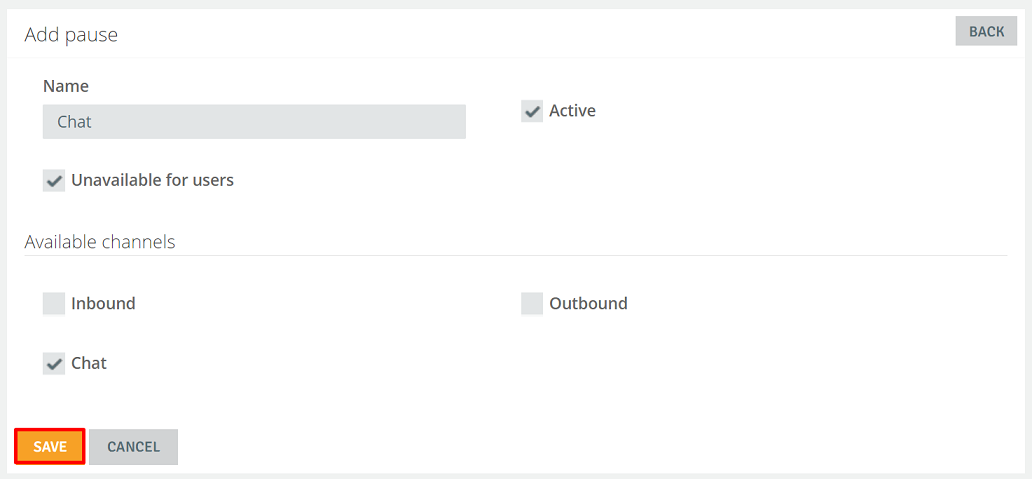 After configuring the pause, click the button

.
The created pause appears in the table. You can activate or hide it (the pause will also be hidden for the administrator), and you can also change the color by clicking Change.
After logging into the Thulium panel, the created break will appear in the Agent status bar.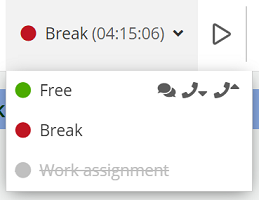 ---