Customer search
The Customers tab allows you to gather information about your customers in one place. Thanks to extensive filters, you can easily find interesting people.
The table by default displays 20 records on one page, but you can change this to 30,50 and 100 records. Use the
buttons to move to subsequent pages of the table.

Clicking on

will open a window where you can decide what information will be displayed in the table. You can freely move the window to another part of the screen.
The customer list by default consists of 5 columns such as:
Sequence number (#)
Identifier - a unique number that identifies the customer
Name - customer's name or company name, there is an option to sort customers by their creation date
Phone number
E-mail
By checking (or unchecking) the appropriate checkboxes, select what customer information you would like to include in the customer list. Clicking Restore default will restore the default view of the customer list.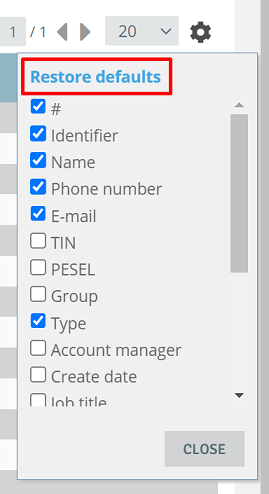 ---
Basic search.
Basic search allows you to find a customer by:
Identifier
Customer
Phone number
E-mail
In the Customer field, type the name of any customer and confirm with enter or click

.

Did you know...💡
Under custom fields for CRM, you can set a search by the values in them:

---
Advanced search.
Advanced search is useful for extensive and large customer databases - it will allow you to quickly find a person or group of people from the same province, for example. After selecting a filter, click

and then confirm with enter or click

.
If you select multiple filters then the system will only search for records that meet all the values.

Available filters:
Type - customer type can be selected:

companies
people
people from companies
people without companies
companies and people from companies

Personal - search by personal information:

Job title
Gender
Date of birth
PESEL

Company - search by company data:

Company
Industry
Customer Group
Customer type
TIN
REGON

Address - search by contact information.

City
Postal code
County
Voivodeship

Custom fields - search by custom fields type:

text (max. 100 characters)
text with indexing
large text
yes/no
list
link
numeric - in the case of a custom field of the numeric type you have the ability to search for information in the selected range using operators
date
e-mail

Campaigns - search by status:

System status - system statuses such as. To call.
Outbound status - the statuses that the records in the campaign have, e.g.. Customer interested.

Contact - search by date of last contact.

Contact by tickets
Contact by phone
Any contact (tickets and phone calls are taken into account)
No contact from

Others - search by additional parameters:

Import - date of import
Show hidden
Account manager
Create date
Show VIP

---