Creating chat queue
Chat queue is a place in which the customers are waiting for a connection with a free agent. You can create several queues that will define the issues that customers report (for example Technical Support, Complaints). The customer by choosing the appropriate queue (topic) will be directed to the right people who will help hom solve the problem.
Let's create a queue. In Administration tab select Chats → Queues and then click the button

.


On the screen a window will appear where you can configure queue settings.
Basic options
Name - enter the queue name
Hint
If you want that your widget to have several queues directing to different things, pay attention to their name. The queue name should reflect the actual reason for contact, for example: Complaints, Orders.
Schedule - define in which hours the chat queue will be active, see: Work hours
Welcome message - enter the content of the message that will be displayed to the client after the start of the chat or when a new agent is attached (you can configure the message display in the chat parameters)
Chat window color - you can change the color of the chat window. This is the color of the upper chat bar - it only applies to the external calls of the agent. It is worth emphasizing that its role is to serve the agent - the client will not be able to see the message when he receives the message. This option may be useful in the case of queues targeting various matters - for example complaints will be marked in red and technical cases in blue.
Autoresponder
Enable autoresponder - the ability to send an automatic first response after a customer's message if the agent is notresponding for a certain period of time
Answer automatically after (s.) - set the time after which the answer will be sent
Response text - enter the message content that will appear in the chat
Ticket options (during chat from within Panel)
Default ticket subject - subject of the application established from the chat level
Default ticket queue - select the queue where the tickets from the chat will be directed to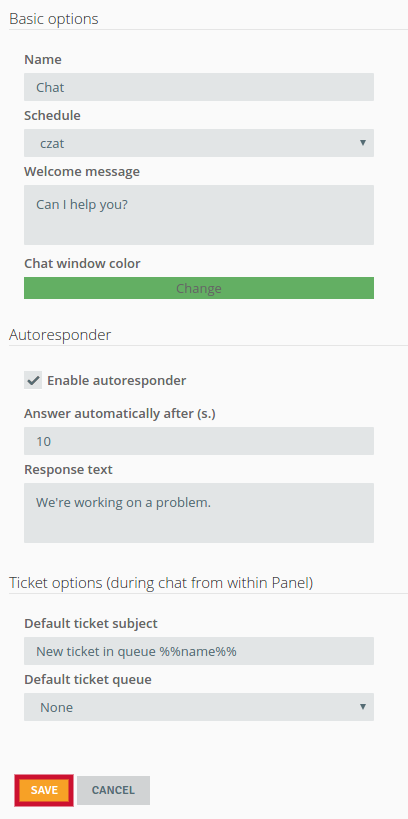 After completing the data click

.
By entering the selected queue you can edit and delete it. Here you will also assign agents - in the Assigned agents part.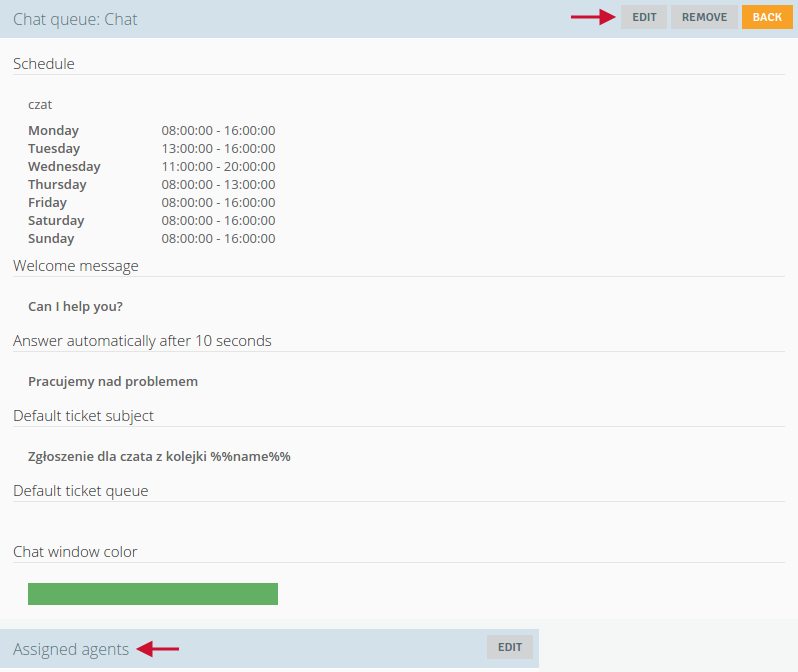 Important
The queue in which conversations have been held can not be removed.