How can I prepare sound messages for the infoline?
Sound recordings play an important role in the configuration of IVR tree. The person who called infoline will hear announcements - after the welcome message, they can be informed for example about the working hours of the consultants or about the possibility of choosing the appropriate department related with the topic of the case which he's calling with.
You can record recordings yourself or use the speech generator (Text To Speech) provided by us.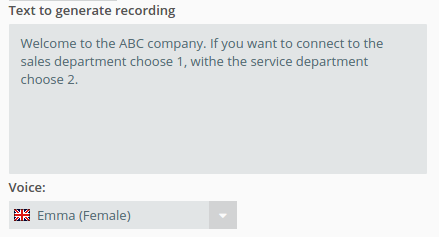 You can generate own recordings by entering text and choosing voice (female or male) and language (Polish, English, Italian, French, German, Spanish, Portuguese).
Limits related to recordings generation:
maximum number of characters in the text field: 1000
the number of daily generator uses: 100
Did you know...
Amazon Polly is an application, which allows you to convert text to speech, which is useful in many tools and applications (for example IVR trees are used in companies dealing with customer service).
Currently it supports as many as 27 languages and has 47 male and female voices. All you need to do is enter the text and the system will generate a recording so that it sounds accurate, natural and realistic. You can find more information about this solution on the Amazon website.