Ticket statuses
Statuses allow you to see at what stage of completion a particular ticket is. If your customer wants to find out what's going on with their ticket, all you have to do is find it by ID number and see the status.
From the Administration tab, select Tickets → Statuses.

We have created six statuses for you to mark tickets.
Nowe - new message in the system,
Oczekuje na klienta - message awaiting response from customer,
Odłożone - ticket is postponed (after the postponement time has passed, it will return to Nowe),
Połączone - messages combined with other tickets,
W realizacji - ticket is pending,
Zamknięte - ticket closed (resolved).
Important...⚠️
The status Nowe is marked with messages in which the customer was the last to write, not just the first message in the ticket.
Did you know...💡
With the status of Odłożone we can postpone theticket to a later date, the change of status to Nowe will take place at the nearest hour marked with a 15-minute time block. Thus:
a ticket postponed at 13:57 will change its status to Nowe at exactly 14:00; a ticket postponed at 13:49 will change its status to Nowe at exactly 13:45.

You create a new status by clicking

. Enter a name for the status (e.g. Rozwiązane) and save the changes by clicking

.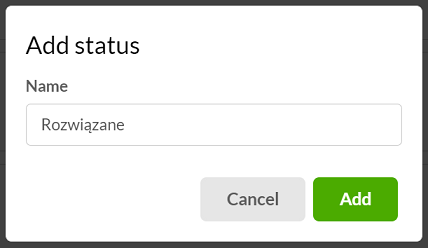 You can expand each status by adding sub-statuses.
To edit the status/substatus, click

, while to delete it, select the

button.
It is possible to change the order in which the statuses are displayed - to do so, click

and drag it to the expected place.
You will be able to select the created statuses by creating or responding to a ticket.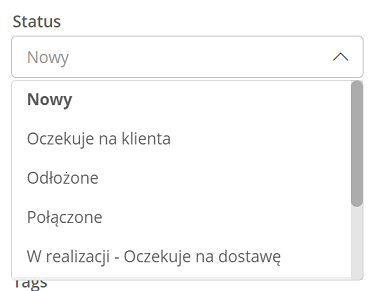 ---