Ticket priorities
Priorities tell you whether the handling of requests is carried out within the accepted timeframe. You can create several priorities (which will have defined response times) and assign them to requests, e.g. current issues will have "Domyślny" priority, and system failures and errors will have "Wysoki" priority. Exceeding of individual response times is signaled by colored dots - thanks to such a solution, agents can control the response time to notifications on an ongoing basis and, for example, deal first with notifications that, for example, wait a long time for a response.
Did you know...💡
In the system, you have already created a priority named Domyślny with defined action times.
From the Administration tab, select Tickets → Priorities.

A table of created priorities will appear on the screen - you can add a new one by clicking the

button.

Enter the name of the priority (e.g. Średni) and specify the action times and confirm by selecting

.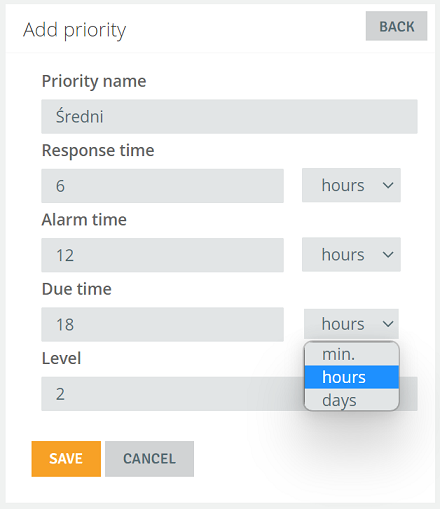 We can set times in minutes, hours and days.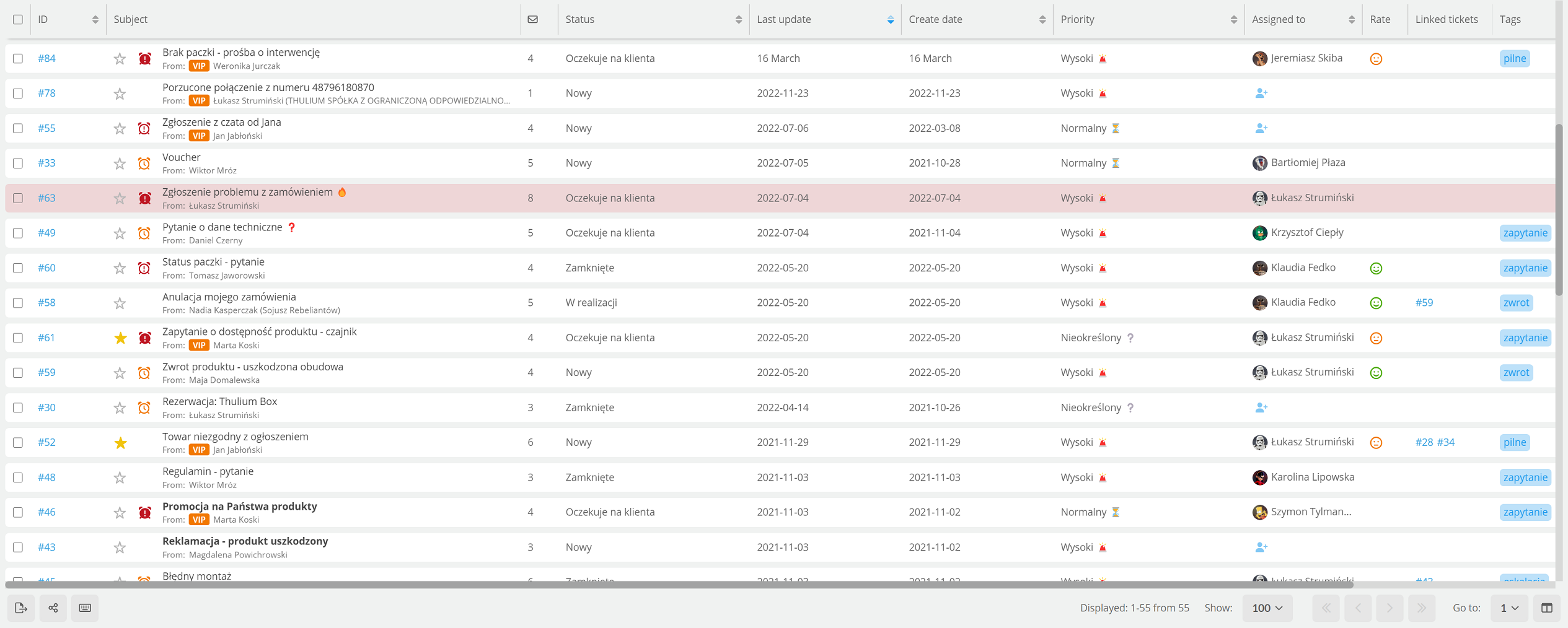 symbol indicates that the response to the ticket occurred after the defined response time,
symbol is alarm time, which is an indication that the processing time for a particular ticket is approaching,
symbol indicates that the response to the ticket occurred after due time.
Did you know...💡
If your tickets do not have any alarm clocks, it means that none of the times have been exceeded and your messages are handled very quickly and according to the set times.
Level - determines the level (importance) of priority, where 1 - low level and 5 - high level. How does this field work? It is used when using the "Support another" option, when the system assigns and moves us to the request with the highest priority (the highest value of the level field), followed by the oldest unassigned (unassigned or assigned to the agent performing the action).
The priorities created appear in tickets.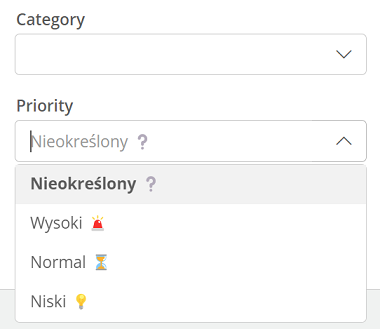 You can edit and delete priorities.

Important...⚠️
When deleting a priority, make sure that it is not assigned to any ticket in the system.
---