Generating configuration
After changes in the following actions:
SIP - creating and editing the SIP account
Phone - adding an external phone
Queue - creating and editing queues' settings
Music - adding and editing music on hold
Operator - adding and changing the operator
Pause - adding and editing pauses
All - all above actions
you need to re-generate the configuration.
In the Administration tab choose Administration → Generate configuration.

You will re-generate the configuration by clicking on the grey field - the system will show the following message: "Phone configuration was generated succesfully".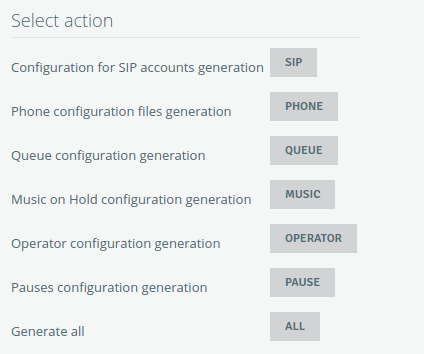 Important
If you choose "Generate all" a message "Configuration was generated successfully. The server was restarted and all agents will be logged out from Thulium Agent." appears.
Don't worry, it's nothing to be afraid of, because nothing will disturb the work of agents when they talk with customers (the process of generating configuration runs as if in the background).